From data to sharable insights within minutes
Connect
Access files and data bases, or couple Visplore with your Python notebooks.
Explore
Assess your data quality and discover insights within minutes.
Prepare
Correct outliers, filter irrelevant data, and label patterns on the fly.
Share
Create and share interactive data presentations with your colleagues and customers.
Why our customers prefer Visplore
From days to 5 minutes

"With Visplore, we reduced the time for analyzing years of data from days to 5 minutes."

Thomas Reiterer

Head of Material Testing Leoben,
RHI Magnesita

Efficient labeling for AI

"Visplore's fast interactive capabilities provide us with a highly efficient way to analyse and label multivariate sensor data for AI applications."

Johann Strasser

Data Scientist, Palfinger AG

Important insights

"Visplore enables our process engineers to analyze data from our Aveva PI systems deeper. This provides important insights and supports more and more Mondi Sites in continuous process optimization tasks."

Wolfgang Meyer

Head of Production Solutions,
Mondi AG

Much easier investigation

"Visplore allows for a much easier investigation of relevant patterns and structures. Our downstream analysis becomes more efficient and we gain more confidence in the results."

Dr. Denis Parganlija

Main Data Scientist,
Verbund AG

€10.000 savings per project

"Visplore saves us approximately €10,000 of cost per project for data preparation effort and is essential in analyzing the data of the physical processes."

Dr. Josef Petek

Manager Commercial Operations,
Enexsa GmbH

Major added value

"The high performance of Visplore and its coupling with scripting languages is a major added value for us."

Bernd Windholz

Research Engineer, Center for Energy, AIT - Austrian Institute of Technology GmbH

Much faster preparation

"By using Visplore, data preparation is many times faster and the prepared data is of higher quality than with the previously used, self-written tools."

Prof. Dr. Thomas Kienberger

Head of NEFI_Lab / Montanuniversität Leoben

Saves much time

"Visplore saves us much time thanks to its user-friendly interface and covers many of our analytics needs without programming."

Dr. Norbert Walchhofer, MSc

Data Scientist & Co-Founder,
Cognify GmbH

33% less time

"Visplore has greatly improved our data labeling process by providing a user-friendly interface that allows for quick analysis and standardization. The interactive features have made the labeling process more efficient, enabling us to label data in 33% less time."

Florian Hinterbrandner

Data Scientist,
DRÄXLMAIER Group
For today's and tomorrow's
data scientists
Integration and automation
Simply load CSV files, connect to SQL databases, or the OSISoft PI system. Your reports in Visplore will automatically update for the latest data.
Or work tightly coupled with your Python notebooks, just as R and Matlab. An API makes sending data to Visplore as easy as reading back results. This combines the advantages of scripted and interactive analysis. You can even fully automate complex time series analytics as part of data pipelines.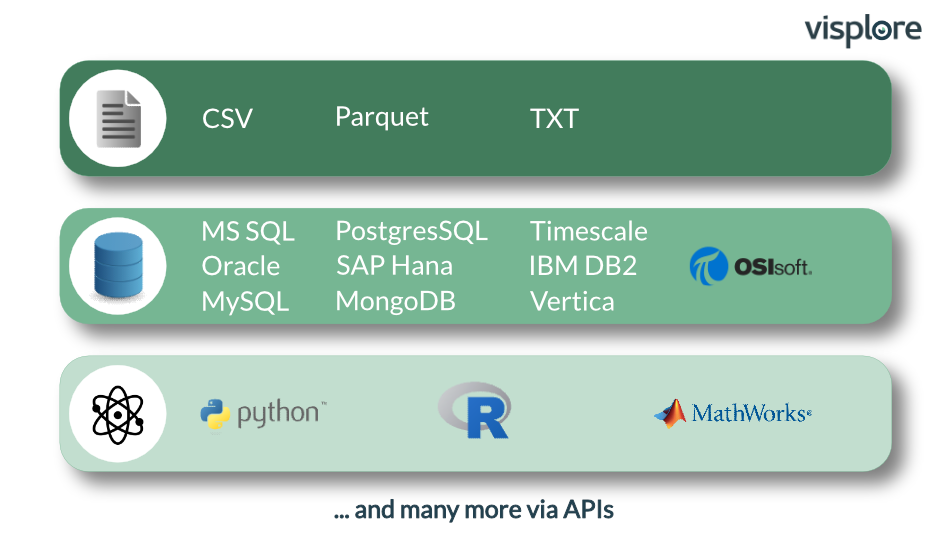 Understanding data and process issues in less time
For projects on industrial sensor data, the preparation and analysis of the data basis is a very time-consuming task. Industrial processes change repeatedly, sensors fail or drift.
Visplore instantly provides you with an overview of up to hundreds of sensor time series. It shows gaps and anomalies and lets you interactively define an optimal data basis. Intelligent tools compare time periods and reveal how and why industrial processes have changed.
Labeling sensor data for AI projects
Any AI is only as good as the labels it is trained on. But labeling industrial sensor patterns requires domain expertise and may get very costly.
Visplore makes labeling massive sensor data intuitive and easy for everyone. It's the only tool for labeling up to thousands of machine operations interactively within minutes. Label data automatically or audit given labels manually. Finally, access the labels directly from your data science notebooks, or export them to files.
Impressing clients with interactive data presentations
The impact of your project results depends on how they are presented. Static charts and tables are limited and often hide specifics of the underlying data.
Visplore lets you go beyond PDF and Powerpoint. Easily document the story your data tells as interactive reports. Let your clients zoom into charts, change filters, or investigate correlations between linked views. For more reproducible results, more value, and more satisfaction by the extra "wow".
How is Visplore different

from other tools?
Most interactive analysis of 10+ millions of data samples
Unique dynamic visualization methods for big time series data
Local or on premise – no need to move your data to the cloud
Master exploration, cleaning, labeling and much more with our tutorial videos
Pre-configured analytics tools for fastest time-to-insight
From small to enterprise: Scale according to your needs