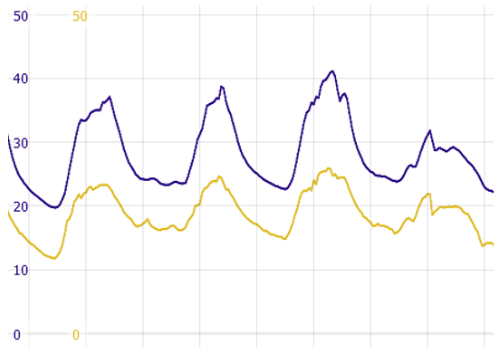 Time series plot
In Visplore, the classic time series plot offers many innovative features such as collapsing time spans, scaling time series individually, and much more.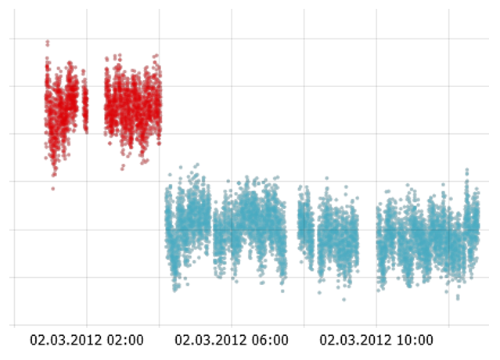 Discrete time plot
Time plots also visualize discrete data, convey the density of the data, show additional data by color, and highlight trends via moving averages.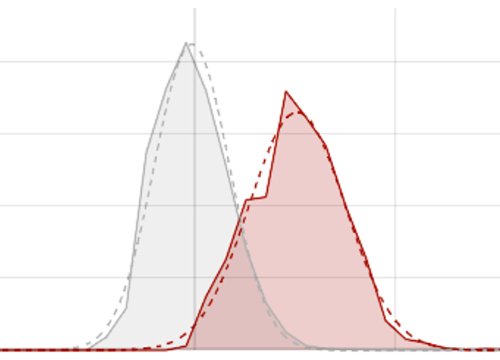 Histogram
Histograms in Visplore support comparing multiple distributions, provide various scaling options, and offer statistical tests.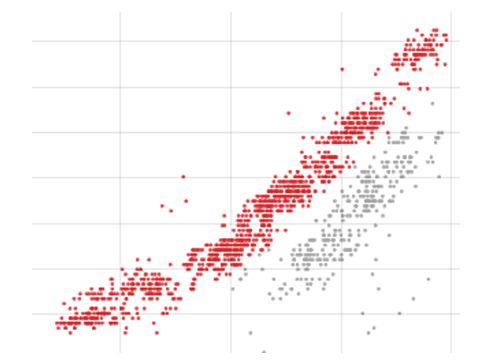 2D Scatterplot
2D scatter plots in Visplore provide multiple selection tools such as lasso, flexible coloring options, and support overlaying regression functions.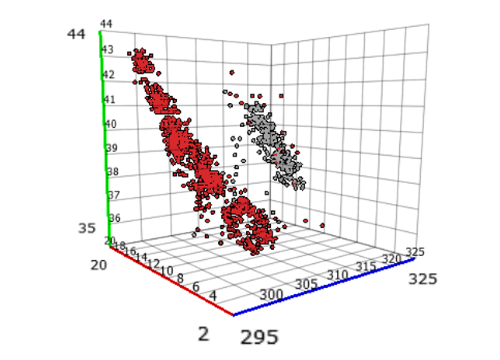 3D Scatterplot
3D scatter plots support intuitive rotation, panning, and zooming. They also display additional data via color.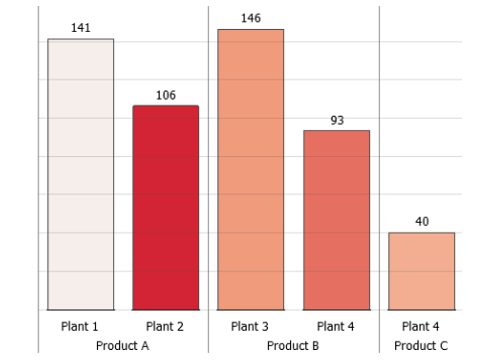 Bar chart
Bar charts let you nest multiple data dimensions, support various options for sorting the bars, and display additional information via the color of the bars.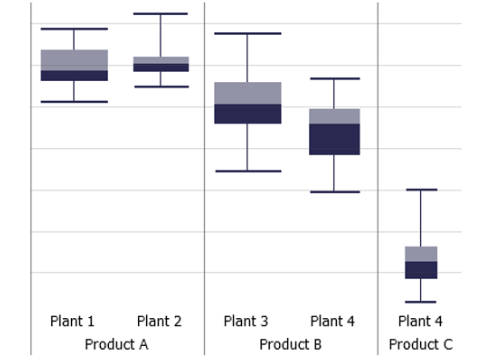 Boxplots
Box plots summarize distributions of values. Use them to compare many data categories or variables.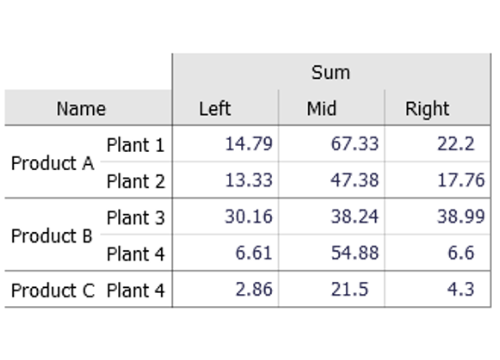 Pivot table
Summarize your data by the dimensions and statistics that matter to you. Compare data by percentages or differences between cells.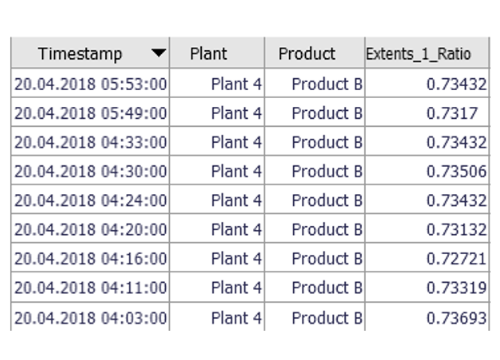 Spreadsheet table
Inspect, edit, and export raw data values any time via a flexible spreadsheet view.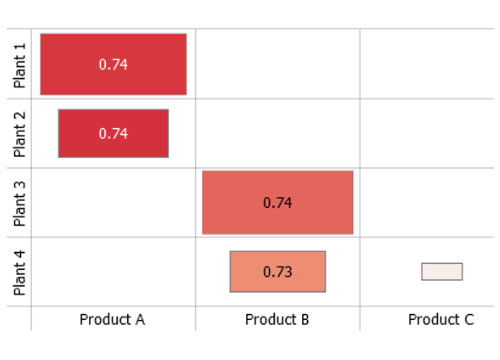 Heatmap
Analyze and select categorical data in flexible heatmaps. Nest data dimensions as you like and display quantitative information by color.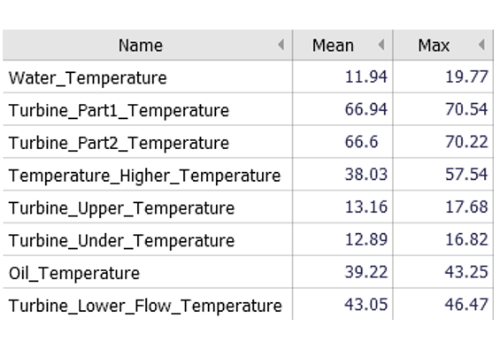 Statistics overview
Summarizes the data by statistics of all numerical variables and supports sorting the variables by their statistics.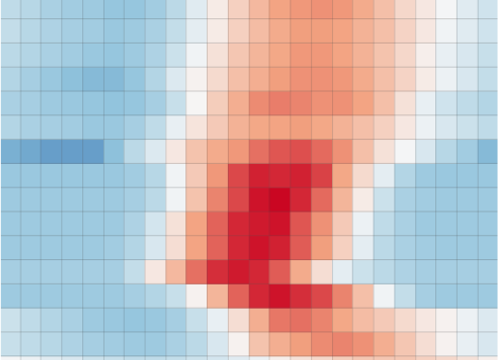 Heatmap overview
A comprehensive overview of all numerical variables for discovering gaps, trends, jumps, cycles, or many other aspects. Sorting the variables guides you to insights.
Histogram overview
Gain rapid insights about the distributions of all numerical variables and let the view guide you to those variables with explanatory power for anomalies or other aspects.
Horizon graph overview
See dozens of time series without clutter and still be able to discover any type of pattern. This innovative overview of process data is your compass to discoveries.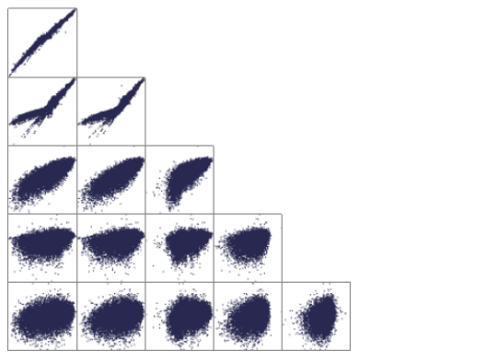 Scatterplot matrix
Discover two-dimensional patterns, clusters and outliers at a glance for dozens of variables. Color indicates correlations.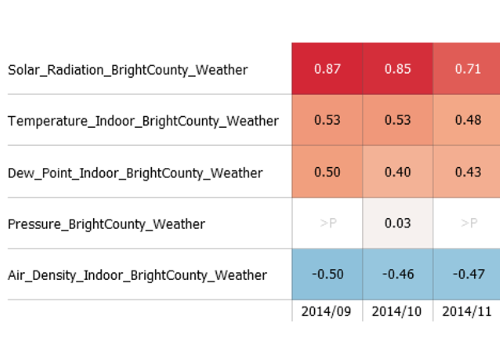 Target Correlation overview
Get the complete picture of all correlations with the target variable that matters to you. Flexible drill-down features let you deal with multi-modal data at ease.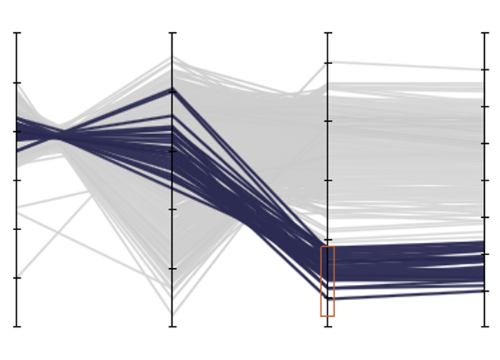 Parallel Coordinates plot
Relate numerous variables for discovering multivariate clusters and for specifying multivariate queries on the data.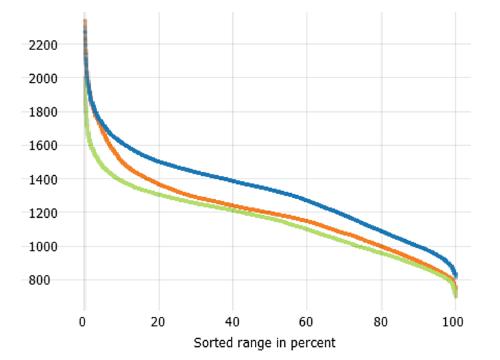 Duration curves plot
Duration curves are an interesting method for visualizing and comparing distributions of numeric variables.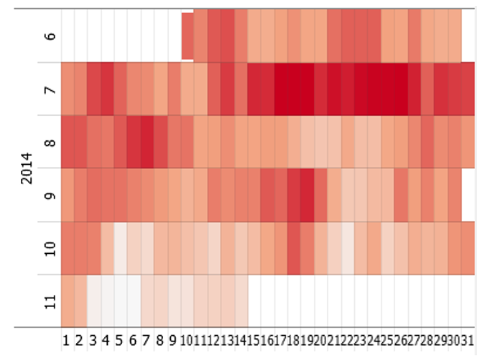 Calendar
The calendar is not only a familiar visualization for looking at long time spans, but also allows you to intuitively select days, months, or years.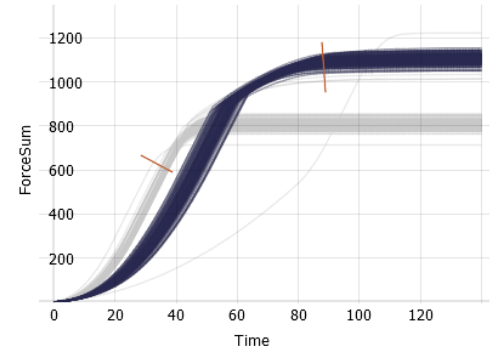 Curve plot

Pro
Analyze hundreds of curves or more, for example daily cycles, machine operations, or spectra. Intuitive tools let you select and emphasize the curves that matter to you.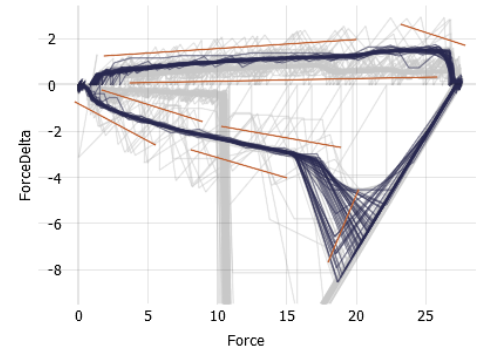 Curve vs. Curve plot

Pro
Visualize pairs of curves such as movement trajectories for hundreds of entities and intuitively select interesting ones.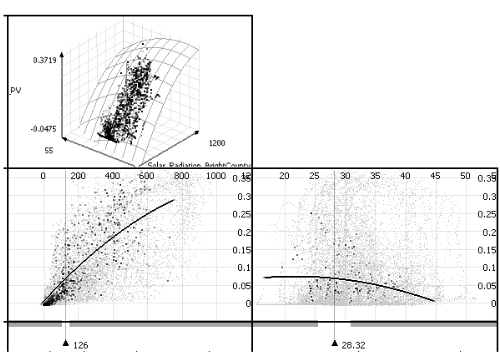 Sensitivity tool

Pro
Analyze regression functions with 3, 4, 5 or more independent variables. Understand sensitivities and conduct what-if analyses in seconds.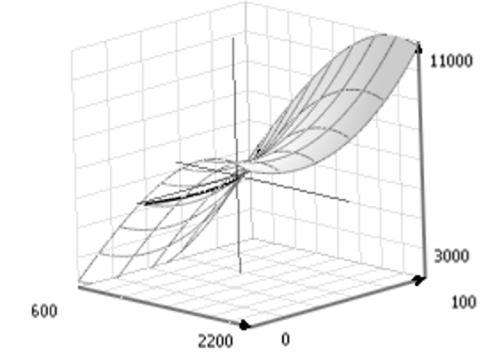 Response surface tool

Pro
Visualize regression functions as 3D response surfaces that you can flexibly rotate and zoom. Explore response surfaces even for higher dimensional models.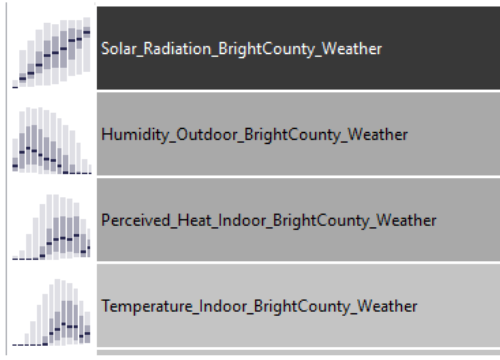 Dependency overview

Pro
This view is an efficient guide to discover correlations between variables of any structure, including non-linear ones.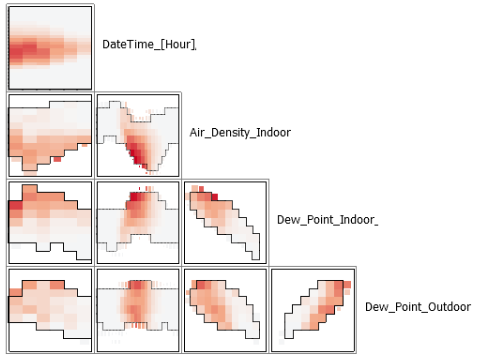 Variable combination overview

Pro
This visualization shows the data distribution for many pairs of numeric and categoric variables. It also guides you to pairs with a potential impact on a target variable.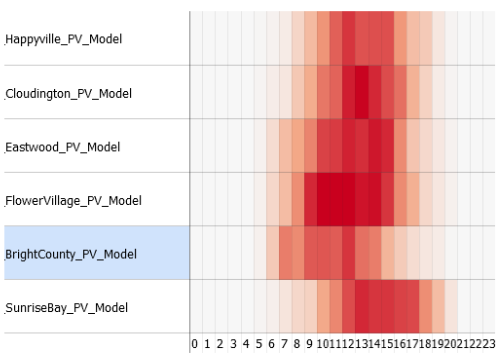 Prediction error overview

Pro
The ideal tool for detailed performance analytics of a large number of predictive models. Visualize the development of the RMSE and other measures over time or over relevant data categories.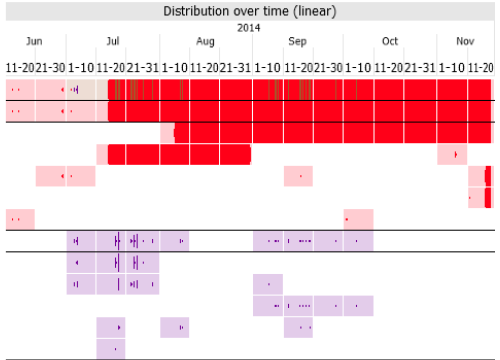 Condition Overview

Pro
Gain a scalable overview, when and where gaps, outliers, anomalies, nonconformities or custom conditions occur in a large number of time series.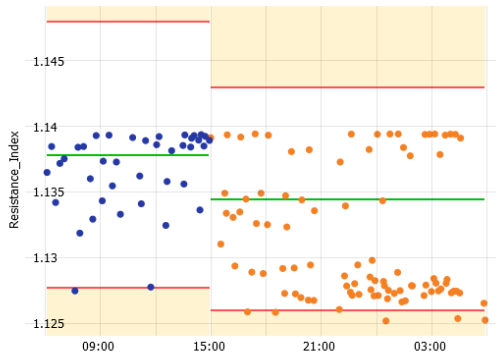 Process control chart

Pro
Display setpoints and specification limits – also variable ones – in time series plots, histograms, and box plots. Select non-conformities with a click.